Rose Gold Swiss Made Patek Philippe Aquanaut Replica Watches For Sale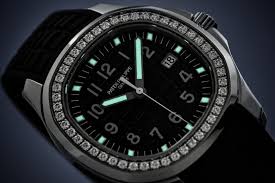 Patek Philippe Aquanaut Replica Watches has created a watch that celebrates the heritage of Nelson Mandela, one of the best known human rights activists of modern times. The watch dedicated to the former president of South Africa is made in collaboration to House of Mandela, a charity organization which was founded by the family of the late anti-apartheid revolutionary. The watch is made in a golden housing and with appropriate inscriptions and symbols that point out its inspiration. There are two versions of the watch, the bigger one made for men and the smaller version with diamonds for ladies.Rolex Replica Watches Both of them are launched in 95-piece limited issues and they are equipped with self-winding mechanical movements.
After the series dedicated to famed sportsmen and other celebrities, Patek Philippe Aquanaut Replica Watches has opted to assign a special timekeeper to the man whose name is a synonym for freedom, dignity and multi-racial harmony. The result of this intention is a limited edition timekeeper which honors the winner of the 1993 Nobel Peace Prize, Nelson Mandela.
There are several references to Mandela's heritage on the watch, starting from the number of copies in the limited editions. It is 95 which corresponds to his age at the time of his death two years ago.
Furthermore, there are several other details visible all over the bezel, dial and the case-back of the watch. At the bezel with a satin finish which is fixed with six polished titanium screws,Omega Aqua Terra Replica Watches one can notice Mandela's signature at the top right section. The lower section of the dial which has the same decorative finish as the bezel of the watch (and the entire case for that matter) features the logo of House of Mandela.
There is also a representation of a bee with outstretched wings on the timekeeper's dial. This symbolizes many branches of the Mandela family tree. It is also a reference to Mandela's middle name, Rolihlahla. In Xhosa people's language, this name translates to both "he who is brave enough to fetch the honey from the honeycomb", as well as "he who is brave enough to challenge status quo".
Africa on the Case-BackA further nod to the renowned freedom fighter is a representation of Africa at the transparent sapphire section of the case-back. The see-through section with anti-reflective coating on the underside also includes the quote 'It's in our hands".